This Time - Last Year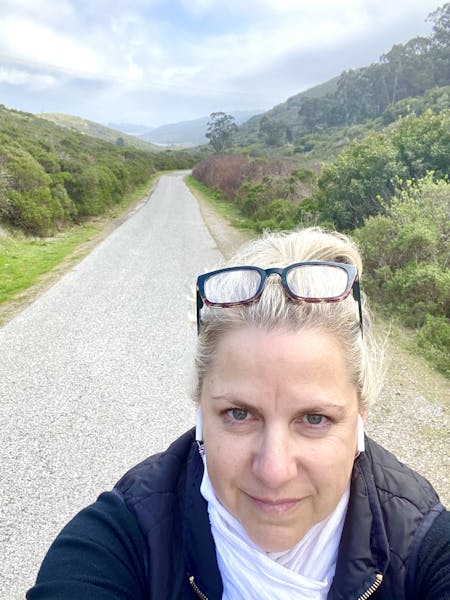 The first anniversary of anything is a larger marker than the second or third. As mid March 2021 approaches and we mark one year with COVID I write to help process what just happened. A year is a long or short time. I think of countless wedding cake top tiers intended to be consumed on their first anniversary, (I wonder how many are still in the back of freezers). Here we are, a year has past. Last year this time I was in California, meeting with catering peers from across the country & Canada. We would meet two to three times a year at each others establishments for loving critique and brutal truths. A brain trust of catering professionals with companies of all sizes that have strangely near identical daily experiences. We gather share ideas, contracts, systems, recipes, but mostly stories, that make us laugh till we cry.
Catering from my perspective is a life of waiting for the other shoe to drop. Anything a miss, at a dinner or event falls into the lap of the caterer. In truth most of us have a genetic defect to believe we can do anything or fix anything. It is the adrenaline high we crave, all with an air of calm and confidence, while serving dinner to 500 wonderful guests. It doesn't matter how many times the portions were counted, you hang on to your elevated heart rate until you see the extra plates coming back from the floor in waiters hands to know you have enough and you have not run out. The feeling of confident uncertainty I know well, it has a particular peculiar scent. The end of February 2020 had that scent. Something was out there in the world, something really bad but, one would think, we'll be Ok, things will be taken care of. They always are-ish.
Forging on I booked my flight to SFO a day early to have time for dinner at Chez Panisse. Opened 50 years ago by Alice Waters, the seed of the Farm to Table "movement". Gathering her community and reclaiming a basic human tenet, the sharing of real food. As I made my reservation late I was only able to get a later seating in the upstairs cafe a more casual version of the downstairs formal dining room. Upon arrival I announced myself to the Maitre D'. He explained to me that a table had become available in the main dining room next to the open kitchen, (has someone cancelled due to that peculiar scent?) he showed me that evening's menu and offered me the choice. Of course, without a second thought I was on my way to my table with a view of the cooks and the wood burning stove. For me dining alone has never meant Alone. My date or companion is the evening itself. That can only be had alone. The table, linens, glassware, china and the silent ballet of the choreographed servers. Audibly, the wine pairing suggestions, the clatter and chatter from the kitchen and the lives over heard surrounding me, all of it is the conversation of the night. The food of course, is nothing short of sublime the evening though in hindsight, was hauntingly fragile. One of the final moments of the evening, slightly elevated words are heard from the kitchen. It appears that one of the cooks did not finish their side work. One of the other cooks was taking care of it for them, The chef noticed. Apparently this is not the first time that this particular cook had not finished their work. To remind this team member of their responsibilities, the chef is recommending that the forgetful party is taken off the schedule for a few shifts. Remember, this is Friday 2/21/20, my meeting begins with dinner in Modesto on Saturday 2/22/20. The meeting ends Wednesday 2/26/20. March 16, 2020 The Bay area is under a shelter in place order, 19 days after my dinner, my date, Chez Panisse is closed. That cook may have had his last coveted shift at Chez Panisse.
Back home on Feb 27 I start to make plans for the NY Restaurant show at The Javits Convention Center in NYC, (which in a few weeks will become an overflow hospital) . I am a little concerned about that particular peculiar scent, that followed me back from California. Optimistically thinking, "things will be fine", nothing more than a hiccup on the horizon. I was not planning to stay in the city for 2 days, but hotel rooms were priced lower than parking garages and Turnpike tolls. So again, feeling that confident uncertainty I head to the City on March 8th for a two night stay. I drop my bag at the hotel at 7am and head to the Javits Center. Upon arrival I learn that the Beauty Show set to open the next day has been canceled. It is a largest international show, many coming from Italy, then the COVID hot spot.
Remind you, no one is wearing masks yet, it isn't even an idea. We all are dutifully washing hands and Purell stations are the precautions of the moment. I head to my educational sessions. I can sense the divide begin to form, those who believe and those who scoff. Onward, the show floor opens, the crowd is maybe a quarter of the normal size and we are weaving aisle by aisle to the edge of anxiety. The sales reps are less enthusiastic, no samples are served, folks are distancing a bit, no hand shaking, Purell is everywhere. I wrap my day at the convention and plan my date for the evening. I have my eye on one of my old steadies, Gramercy Tavern on 20th St in Manhattan. I freshen up at the hotel, then walk the 20 or so blocks down Madison to Broadway then left onto 20th St. One of the thing I miss most is walking daily through the streets of New York. This walk, is bit of inventory tracking, to see what time had held on to or decided to discard. I arrive at Gramercy Tavern, like an old friend it seems no time has gone by and we pick up where we left off. I take a seat at the bar and breath in the room, it's murals and flowers the glint of fire from the grill.
Conversation begins w/ the woman to my left. Much younger that myself. This is her first business trip post giving birth. We discuss the concerns of leaving her infant for the first time and the layering anxiety of the "Pandemic" "Thing" looming off shore in the shortening distance. The gentleman in the coveted corner seat swirls his wine, looks up from his phone and chimes in with the sardonic nature found only in a creature of New York, proclaiming that this "thing" is going to blow over. As we now know all too well that it did not blow over but it was an off the charts Cat 5 coming straight for this town and surrounding neighborhoods. Hindsight begins to sting as I recount these beginning days of March 2020. How special was this night sitting at this bar, in this space, this space of casual elegance and privilege. We would only come to realize in the coming weeks, how special it was. Gramercy Tavern and the entire hospitality industry was about to enter a fight of it's life.
I head back to NJ, my food shop and catering company has been running well in my absence. It's Tuesday March 10th., Thursday March 12th is my husband's last day at work in the city at WSJ, Friday March 13th is my son's last day at school.
Shoe Drop.